There's a reason why these Korean cakes are all the craze now. Don't be fooled by the simplistic nature of these cakes, for they definitely pack a punch despite their humble appearance! With the best Korean inspired cakes in Singapore, expect to see pretty pastel colours on fluffy layers that you wouldn't bear to slice through!
Minimalism and clean aesthetics are synonymous with our Korean inspired cakes. That's probably why they're often referred to as Korean minimalist cakes in Singapore! These cakes have been trending, particularly because their designs are simple, clear-cut and are perfect for Instagram since they're extremely photogenic!
When it comes to getting your hands on the best Korean style cakes in Singapore, we're the one you should look for. Here at Bob the Baker Boy, we take pride in curating an extensive range of Korean cakes Singapore loves! On that note, allow us to recommend to you our fine selection of Korean cakes!
Korean cakes are generally classified into 3 different categories, as we see it to be:
Shop Korean Bento Cakes here.
Korean Bento Cakes
Our Korean Bento Cakes in Singapore are trendy, extremely cute, and best of all - it doesn't break the bank! These lunchbox cakes are mini cakes - 4" in diameter, approximately 2" tall and fit snugly in a bento box. This makes our korean inspired bento cakes perfect for serving 1 to 2 people, perfect for romantic and intimate celebrations with your significant other!
It's probably the surge in minimalist aesthetics that gave rise to the popularity in these box cakes. They make great gifts. People like writing messages on it to their friends and sending them as a delicious surprise. And when they don't indicate anything? We'll write Saranghae~ Awwww.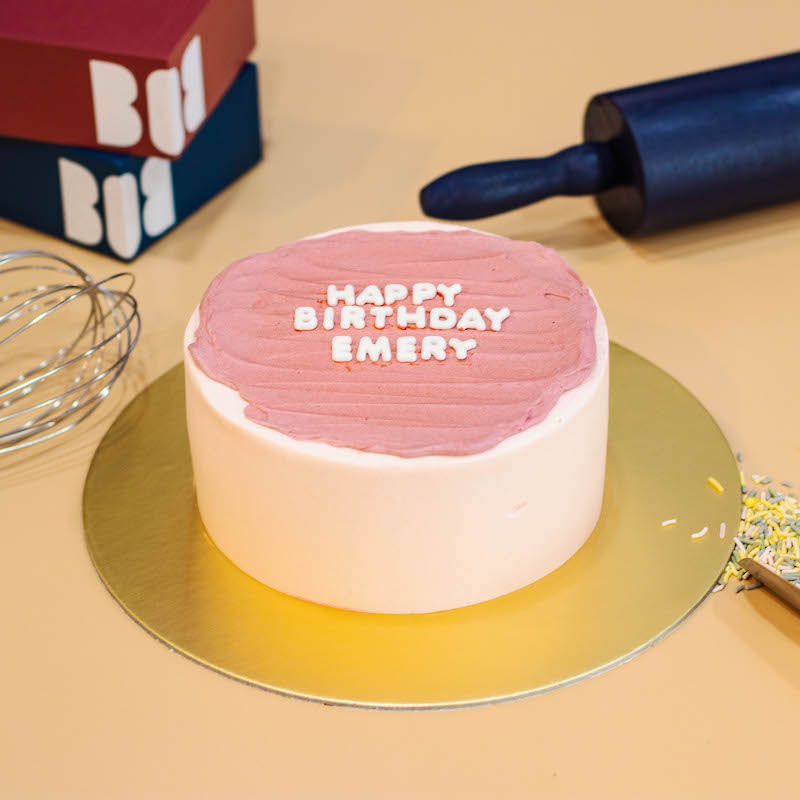 Shop Korean Lettering Cakes
here
Korean Lettering Cakes
These cakes are pretty enough to go on your instagram, but simple enough to not break your bank. Think a classic cake, splashed with pastel koreany colours, and painted on with abstract art buttercream for the sweet finish. People love having messages on them! That add-ons like sprinkles? They give you more reasons to love them.
Shop Custom K-Style Cakes
here
.
Customised Minimalist K-style Cakes
We all love that soft romance of minimalist K-style cake designs. But having them personalised? It changes the game - minimalist korean-style custom cakes take birthday cakes to the next level of delight!
Customise your own with a cartoony face, shooting stars, or your favourite polka daisies. Heart shaped cakes? Bring them on! I guarantee it'll be nothing less than a chic birthday surprise.
All of our Korean cakes come in a variety of sizes and cake flavours. On hand you'll find flavours chocolate and flavours vanilla. People love our unrivalled classic chocolate cake (Signature 55% Belgian Chocolate), but I'm adventurous and I'll go for salted caramel.
Shop Classic Bento Cakes here.
We got so inspired by the korean bento cake idea, we went on to create classic casual cakes in a lunch box. They are perfect for a cosy Sunday afternoon at home - coated with whipped cream or chocolate, they make it light and delicious like a sliced cake, yet not too heavy like a full cake size! Also, if you're looking to have a taste-test of our flavours before buying a full-blown cake, our Classic Bento Cakes would be perfect to start off with!
Whether you're getting our Korean Cakes in its regular size or a bento size, one thing stays the same - you're going to end up with a cake that is aesthetically flawless and addictively delicious nevertheless! We're excited thinking about sharing these wonderful cake curations with you!
Posted on 28 Jul 2021
Back