If you're looking for a kids birthday cake that'll make your handsome little lad go wild, you're at the right place! Make your boy's birthday party an unforgettable one with our cakes that are specially designed for the little ones! Make this year's birthday one of life's sweetest moments with our huge range of kid's birthday themed cakes today - from full month cakes, 1st birthday cakes, all the way to primary school!
Dinosaur Cakes
We think Blippi and Jurassic World have a huge part to play in this. Every single baby boy seems to love dinosaurs (Or maybe their parents like Chris Pratt!)! Our Dinosaur cake designs are diverse, ensuring that there's always a design meant for every handsome boy, whether it be a baby's full month party, or a celebration for young pre-teens!
We're proud curators of both cute and ferocious dinosaurs. We can even do cakes featuring dinosaurs on a lava-spewing volcano cake that produces "smoke"! The sky's the limit here at Bob the Baker Boy.
Some of our more interactive dinosaur cakes even include dino toy toppers that your kids can detach to play with afterwards - talk about leaving on a good note! Surprise your boy with a Dinosaur Cake today.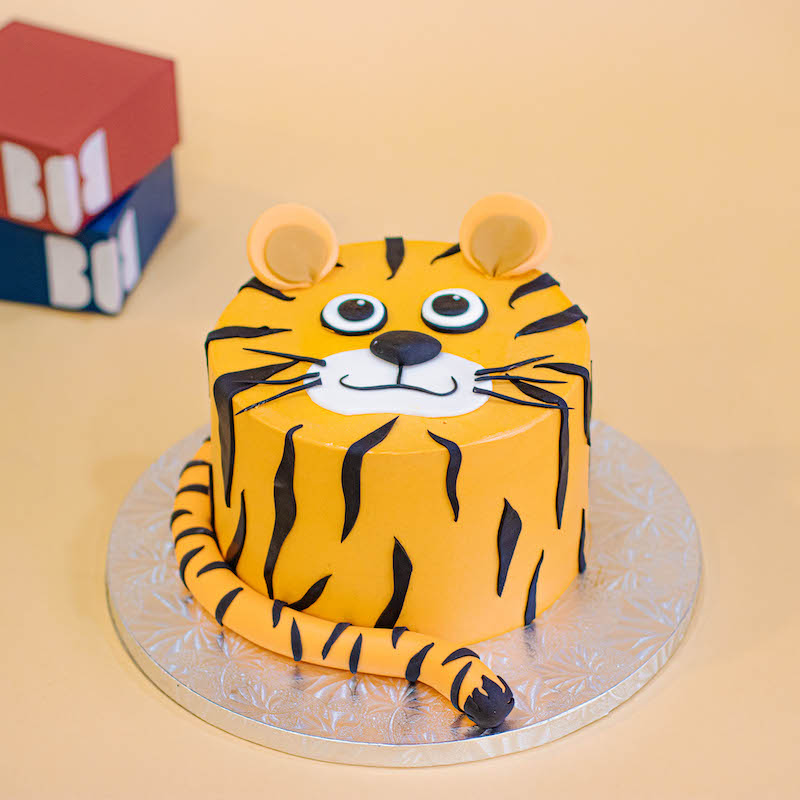 Safari Cakes
With life-like animals and intricate details of jungles, our Safari Cakes are definitely head-turners. If your boy is an avid fan of the wildlife, this cake theme will be perfect!
From cakes featuring a dense jungle setting, to cakes that are easier on the eye and focus more on animals, you name it, we've got it. Furthermore, if your boy is an avid lover of a particular animal, feel free to discuss its design with us! Here at Bob the Baker Boy, nothing is impossible. Treat your little one to a Safari Cake today!
Construction Cakes
Featuring excavators and building elements, it's no wonder why our Construction Cakes are extremely popular among the boys! Fuel the engineering passion in your little ones with our awe-inspiring Construction Cakes!
Danger strips, road signs and excavators are what you should expect out of our Construction Cakes. These flashy elements are intricate and simply amazing to look at! If your little one is a lover of all things construction, then our Construction Cakes are definitely worth considering!
Prince Cakes
Make your boy's fairytale come true with our Prince Cakes! Here at Bob the Baker Boy, we curate enchanting Prince Cakes with magical elements injected into them. Think rainbows, pretty clouds and life-like prince figurines!
If your boy is a fan of magic and castles, this theme can definitely bring a fairy tale to life. Take your little one on a trip to wonderland with our Prince Cakes today!
Under the Sea Cakes
Our intricate Under the Sea Cakes feature nautical sea creatures that will definitely intrigue the little ones! From realistic dolphins to mythical mermaids, we've got an arsenal of everything related to life under the sea!
Apart from sea creatures, we've got cake designs that feature pirates and ships as well! That way, even if your boy isn't a fan of nautical life, he can still indulge in realistic figurines of cartoon characters, seacraft and other nautical elements with our Under the Sea Cakes!
Pastel Blue & Clouds
Nothing speaks about baby love and innocence more than pastel blue colours and the purity of clouds. For mommies who are completely clueless about cake themes especially on a full month, this theme is perfect for their baby shower cakes and baby full month cakes!
Our Pastel Blue & Clouds cakes look as good as they taste. Serving up pretty pastel colours, these cakes are extremely photogenic and are definitely Instagram-worthy! Browse through our Pastel Blue & Clouds cakes today!
Vehicle Cakes
With a wide range of vehicles for you to choose from, our Vehicle Cakes cater to the masses! Whether it be sea, land or air transport, we've got all the designs regarding vehicles in our Vehicle Cakes category!
If your boy is a transport and vehicle enthusiast, these cakes are guaranteed to bring him delight. Our Vehicle Cakes feature planes, trains, firetrucks and even ships! Surprise him with a cake featuring his favourite vehicle with our Vehicle Cakes!
If you've been in the loop on our amazing cakes, then you'd know that the sky's the limit here at Bob the Baker Boy! With our extensive range of cake designs including 3D Cakes, there's sure to be one that suits your needs, whether it be for a full month celebration or for 1st birthday cakes! Just don't smash cake on your little one's face. Our cakes contain egg, dairy and sometimes colouring (depending on your cake design) and many toddlers have allergies to these ingredients under 1 year old and develop rashes.
Our icing room specialises exclusively in low-sugar buttercream cakes. Our cakes are not so sweet, making it perfect for your precious little ones and your guests to enjoy!
Finding yourself having to choose between cakes or cupcakes? We have them both! What's even better is that we stick to Halal Certified ingredients as far as possible. Want to fully customise a cake? Speak with our friendly customer success team here today!
Tags:
News
Posted on 09 Aug 2021
Back