Delight your guests with a variety of cake flavors and fillings that have been inspired by Asia. From sweet mango to matcha green tea, discover cakes like no other you've tasted before. Whether you are looking for something unique and delicious or simply exploring outside the box, Asian-inspired cakes provide an exciting opportunity to expand your dessert repertoire. With this blog post, we will explore some unique flavor combinations made from traditional ingredients found throughout the continent for various cake types. Get ready to be amazed!
Pandan
The delicately sweet and nutty flavor of pandan has become a popular cake flavor in Asia. Originating in Southeast Asia, it is used in sweet desserts such as kueh and cakes. The distinct Pandan aroma makes these delicacies positively irresistible with its inviting sensation that hits the nose and renders one unable to resist indulging.
The beautiful green hue of this natural flavoring will entice guests to your next party, making it an excellent idea to serve a pandan-flavored cake. The otherworldly taste experience of pandan flavor cannot be found anywhere else; truly, experience a truly Asian flavor with pandan cakes!
Oolong
An oolong flavor cake is a must-taste quintessential Asian experience. Oolong tea, originating in China and Taiwan, has a delicate, fragrant aroma that floats throughout your palate and lingers on your tastebuds. Its taste is soothing yet vibrant, with smooth floral notes that unfold in numerous layers; this flavor carries through into an excellent cake filling for those looking for something unique and sophisticated. Whether you're a fan of Asian desserts or are just trying something new, an oolong flavored cake will definitely add to the dessert course of any special occasion.
Oolong cakes offer a unique flavor experience unlike any other cake; their mix of floral aromatics, slight notes of butter and the perfect amount of sweetness make them the perfect accompaniment to a cup of tea. While oolong cakes are somewhat lesser-known compared to other traditional desserts, they are quickly gaining in popularity due to their delicate yet flavorful taste.
With its curing aroma and light, moist texture, oolong cake is ideal for eating alone or sharing with friends on special occasions. So if you're looking something different and exciting compared to usual cakes, trying an oolong cake should be your next indulgence!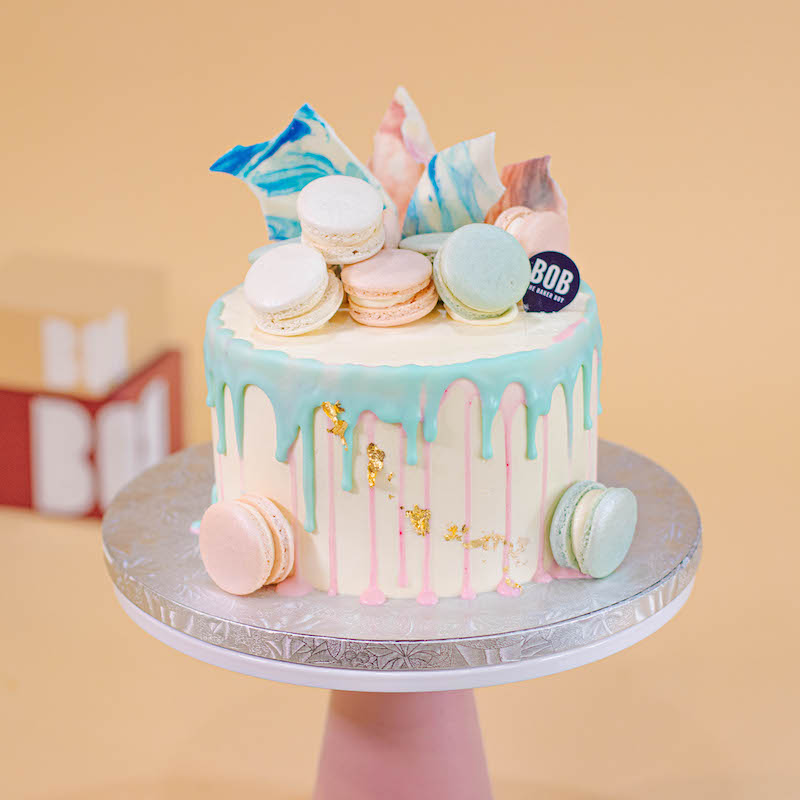 Coconut
The delightful flavor of coconut is one that stands out in many Asian dessert recipes. It's a truly captivating taste that is often used as the base for some of the most beloved sweet treats found throughout Southeast Asia. Coconut cakes have a unique, rich flavor that comes from the combination of the earthy, slightly sweet taste of coconut and spices such as cardamom and cinnamon. The dough used for these cakes often contains extra butter to enhance their delicate texture and melt-in-your-mouth appeal. Whether you're looking for an exotic take on a traditional cake recipe or just searching for something sweet with an Asian twist, consider trying out a cake with coconut flavor – it just might be your new favorite!
Matcha
Matcha is a truly Asian flavor cake that has seen an explosion of popularity over the last few years. Made out of finely ground green tea powder, it has a unique flavor and color that will delight even the most daring palates. Traditionally served as a sweet in Japan, matcha cake looks as great as it tastes with its vibrant green hue. Contrary to many other cakes, due to its composition of ground green tea leaves and sugar it also provides numerous health benefits. With matcha's rise in popularity, this Asian flavor cake can now be found all around the world making for a delightful treat no matter where you are.
Mango
The mango is a distinctively Asian flavor cake that has been delighting taste buds for centuries. Growing in popularity with time, the mango cake is known for its fragrant scent and smooth texture. Created from fresh mangoes and other natural ingredients, this sweet treat is sure to make your mouth water. The perfect balance of flavors results in a lingering aftertaste that will keep you coming back for more. With its unique flavor profile, the mango cake is at once familiar and yet tantalizingly different – making it an ideal dessert for any occasion.
Unlike traditional flavors like vanilla and chocolate, the flavor of mango cake provides an exotic sweetness that will tantalize your taste buds. It is incredibly moist which makes it the perfect accompaniment to a hot cup of coffee or tea; its sweet yet tart flavor is sure to be something you crave after having your first bite. Not to mention, mango cakes can often make for a visually appealing dessert, with decorations that rival those found on more traditional cakes. Try a mango cake for its bold flavor and explosive texture - you won't be disappointed!
Red Bean
Red bean cake is a delectable treat, popular in many Asian cultures. As the name implies, red bean cake is made with a sweet red bean paste known as 'an' and is usually filled inside a yellow sponge cake. The soft, comforting texture of this dessert paired with its unique flavor makes it a favorite sweet treat all over Asia. This vegan-friendly cake can be enjoyed on its own or served alongside light tea. Red bean cakes are incredibly easy to make and require only some anko, sponge cake and love to get the perfect flavor and texture right. So next time you're looking for something unique to try out at home, don't forget about this truly Asian flavor – red bean cake!
Who says you can't have your cake and eat it too? With these Asian inspired cake flavors, you can indulge in a sweet treat that is exotic and satisfying. From matcha green tea to pandan or mango, there is something for everyone to enjoy. So what are you waiting for? Check out our latest cake selections today!
Tags:
Cakes
Posted on 25 Dec 2022
Back