Every bride dreams of the day she walks down the aisle to marry her man. The feeling of happiness and love is almost palpable in the air. But what about the food? What will be served at this momentous occasion? While wedding catering can be as varied and creative as you like, there's one dish that is always a must-have: wedding cake!
But with so many options out there, how do you choose the perfect cake for your big day? This guide will walk you through everything you need to know about wedding cakes, from flavours and designs to budgeting and delivery. So, whether you're planning your own wedding or just helping a friend, read on for all the information you need to make sure you are getting the perfect wedding cake.
The Wedding Cake Budget
A wedding cake is often the centrepiece of the reception, so it's important to choose a design that reflects the style of the event. However, with so many options available, it can be difficult to know how much to spend on a wedding cake. The average cost of a wedding cake is $500, but prices can range from $100 to $1000 or more. When making your budget, be sure to factor in the cost of ingredients, labour, and delivery.
When it comes to custom wedding cakes, there are a lot of factors to consider. The size and style of the cake, the materials used, the number of tiers - all of these things can impact the price. So how much should you actually spend on your wedding cake?
Well, that depends on your budget and your priorities. If you're looking for an extravagant, multi-tiered cake with fondant icing and sugar flowers, you can expect to pay upwards of $1000. But if you're more concerned with taste than appearance, you can find a delicious cake for a fraction of that price.
If you're looking to save money, consider making a smaller cake for cutting and serving, and then supplementing with sheet cakes or cupcakes. With a little planning, you can create a beautiful wedding cake that fits within your budget.
Cake pricing factors
When it comes to wedding cake pricing, there are a number of factors to consider. The most important factor is timing - if you're looking for a last-minute cake, you can expect to pay a premium.
Other key factors include the ingredients used, the flavour of the cake, the size and number of tiers, and the level of intricacy involved in the design. For example, a simple white cake with buttercream frosting will be less expensive than an elaborately decorated cake with multiple colours and fondant details.
Finally, don't forget to factor in delivery fees and any customisation you might want (such as a special cake topper).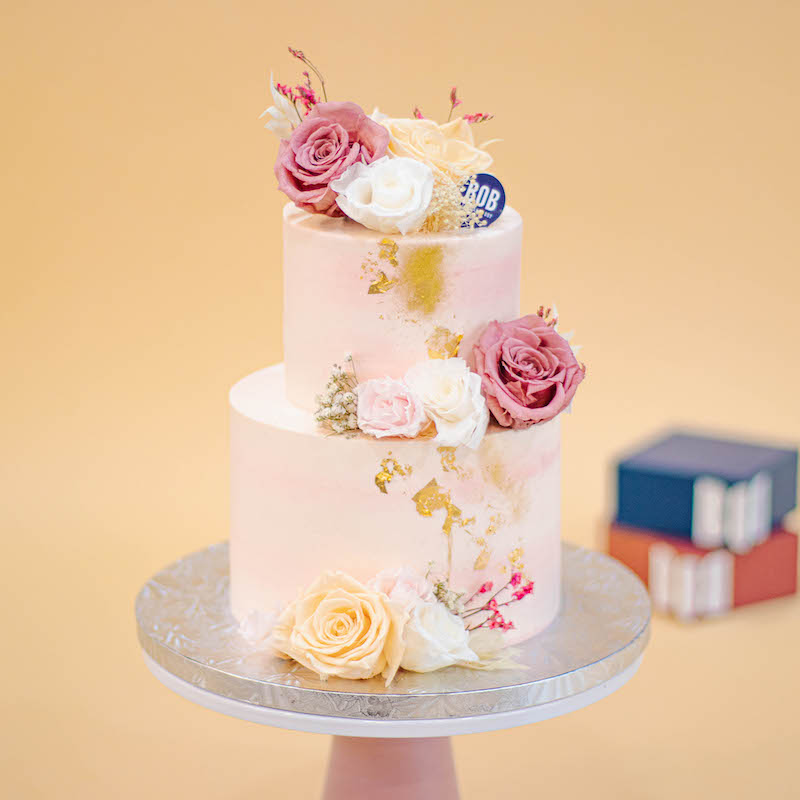 Things to Ask Your Baker
If you're planning a wedding, one of the first decisions you'll need to make is who will bake your cake. Wedding cakes are notoriously expensive, so it's important to find a baker that you can trust to deliver a delicious and beautiful cake on your big day.
Some bakers will do a consultation that includes a tasting of a number of flavours, plus a discussion of your cake design, while others will simply provide you with the flavours for you to taste on your own, then discuss design after you've signed the contract.
Many bakers do charge a fee for a cake tasting, but will then apply that amount toward the final cost of your cake if you sign a contract.
Some of the things to ask your baker are:
1. How long have you been in the industry?
2. What's your culinary expertise?
3. How many wedding cakes do you make each year?
4. Are you a licensed baker?
5. How many cakes do you deliver in a day?
6. How soon will my wedding cake be delivered?
7. Do you have a portfolio we can check out?
8. We have a few inspirational ideas. Can you recreate them?
7. Do you make sugar flowers?
8. How big should our cake be?
9. How do you price your cakes?
10. What are your payment options?
11. Is there a delivery fee?
12. Do you have a refund policy?
Other Equally Important Wedding Cake Questions to Ask
There are few things more important than choosing the right wedding cake. After all, your cake will be one of the most photographed details of your big day and it will also be a delicious treat for you and your guests. With so much pressure to get it right, it's no wonder that couples often have a lot of questions when it comes to wedding cakes. Here are some of the most common questions about wedding cakes, along with expert advice on how to choose the perfect cake for your big day.
1. What should be our cake flavour?
A wedding cake is often one of the most anticipated details of the big day—and with good reason. In addition to being delicious, a beautiful cake can add a touch of elegance to the reception. However, choosing a single flavour can be difficult, especially if the bride and groom have different tastes.
Fortunately, many bakers are now offering multi-flavoured cakes that feature different combinations of cake and filling. This way, each guest can choose their favourite slice, and no one has to compromise. If you're planning a wedding, talk to your baker about creating a tiered cake that features different flavours.
2. When should we cut our cake?
At weddings, the custom cake cutting is often one of the most anticipated events. Guests gather around to watch as the happy couple slices into their beautiful cake and shares the first piece with each other. While the tradition used to be to wait until after dinner to cut the cake, these days it is more common to do it earlier in the evening.
This allows guests who may need to leave early to do so without missing any of the formalities. It also means that everyone can enjoy a piece of cake before dancing begins. Whether you choose to cut your cake early or late, it is sure to be a memorable moment for both you and your guests.
3. Do we need to add other types of desserts?
Your wedding cake is a chance to show off your personality and style, and there are endless possibilities when it comes to flavour, design, and decoration. But with so many choices, it can be hard to decide on the perfect cake for your big day. Luckily, there are a few tried-and-true flavour combinations that are sure to please any crowd.
A classic combo like chocolate and vanilla is always a good choice, or you could mix things up with a flavourful fillings like raspberry or lemon. If you're looking for something truly unique, consider a savoury option like a cheese or olive oil cake. No matter what you choose, remember that your wedding cake should be a reflection of you and your spouse-to-be.
Looking for wedding cake inspirations? Check out our cake catalogue and find one that matches your heart's desires!